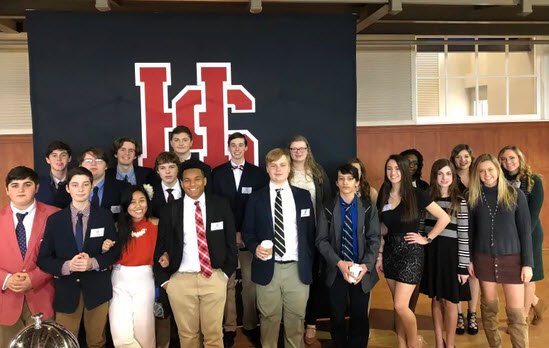 Battle of the Brains (Grades 9-12)

Battle of the Brains is an academic quiz-bowl show highlighting upper school teams from across the states of Virginia and North Carolina in a contest of academic knowledge. Questions are based on high school curricula with subjects ranging from trigonometry and calculus to philosophy, classical music, science, and history. Fuqua School's Battle of the Brains team has qualified for the televised tournament consistently over the years.

Ecology Club (Grades 9-12)

The Ecology Club focuses on environmental awareness, science education, upkeep of the school's nature trail, and on-campus recycling. Members participate in the Virginia Envirothon annually.

Debate Team (Grades 9-12)

The purpose of the Debate Team is to provide upper school students with the opportunity to participate in both on-campus audience debates, and debate and public speaking competitions.

Model United Nations (Grade 9-12)

Sponsored by Hampden-Sydney College, this 3-day conference gives upper school students from across Central Virginia the opportunity to participate in an academic simulation of the United Nations. The Model United Nations aims to educate participants about current events, international relations, diplomacy and the United Nations agenda. The participants role-play as ambassadors representing a country in a simulated session of a committee of the United Nations, such as the Security Council or the General Assembly.

Readers Club (Grades 9-12)

The Readers Club offers students the opportunity to read and discuss books beyond those they read for class. Students offer suggestions for the library collections, help decorate the library for holidays and celebrations, and strive to enhance the cultural experiences of its members.

Student Organization for Developing Attitudes (S.O.D.A.) (Grades 9-12)

S.O.D.A. works to cultivate positive attitudes on campus such as being hospitable to foreign students and visitors, taking pride in school, acting responsibly and safely, and striving for academic excellence. Students collaborate to plan programs designed to increase awareness of issues and to offer effective ways to contribute to a more positive climate on campus.

Youth For Christ (Grades 9-12)

The Youth For Christ group promotes Christian ideals, spiritual development, and community support. Students hold fund-raising events in order to make financial contributions to community volunteer organizations.

Youth and Government (Grades 9-12)

Youth and Government is a YMCA program in the United States that allows upper school students to serve in model governments at the local, state, and national level. It also allows students to participate in a model judiciary program. Fuqua School students participate in the Model General Assembly (MGA). Through this program, students assume roles of state legislators to make learning come alive. Students are selected to fill the slots allotted to Fuqua School for these programs by a variety of factors including age, interest and prior participation.