traditions: What Makes Fuqua School Unique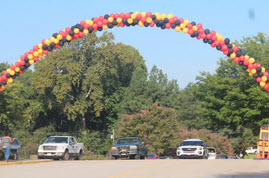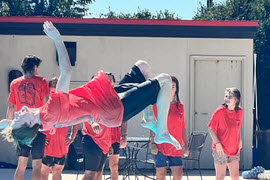 SENIOR PARKING SPOTS:

Seniors select a spot in the senior parking lot and decorate and paint the spot to represent their personality and interests.

SENIOR BREAKFAST:

Fuqua School's senior class gathers together, on the first day of school, to be honored by a senior breakfast prepared by the senior parents.

SENIOR DRIVE THROUGH:

The senior drive through is an opportunity for the senior class to arrive on campus for the first time as a senior in a celebratory fashion. Starting at the Lower School with our littlest Falcons cheering them on, seniors pile into vehicles in parade style and are led, by Farmville police, onto the Upper School campus to begin their senior year!

POOL JUMP:

Fuqua School's senior class starts off their first week of senior year with a jump into the Fuqua pool. Holding hands to show unity as a class, the students use this jump to symbolize them leaping together into their senior year.

MOTHERS' TEA:

The tradition of a "Senior Mom Tea" was revived by the Class of 2016. According to the yearbooks, Moms had been honored by a tea in years past. The seniors are asked to fill out a questionnaire about their Mom from what does their Mom smell like to what is their Mom's favorite food. Each senior also writes Mom a note which is sealed and given to her to read later.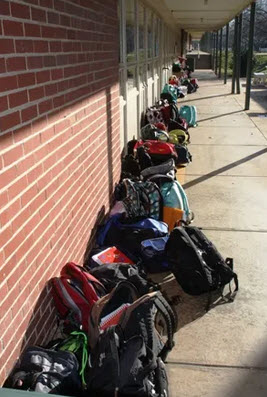 Backpacks on Sidewalks

Fuqua School's vision is to serve as a model of academic excellence while instilling in students the importance of honesty, respect, and responsibility. Those values are evidenced daily by the backpacks which line the campus sidewalks just as they did 20+ years ago. It's a unique tradition that those at Fuqua School take for granted, but visitors immediately notice.

Morning Handshake

Each morning, the Head of School greets every lower and middle school student to campus with a handshake. This special time of the day allows the Head of School to not only say good morning in a personalized manner, but also gives him the opportunity to provide the students with encouraging messages to get their day started on the right note!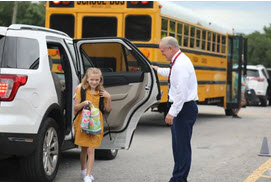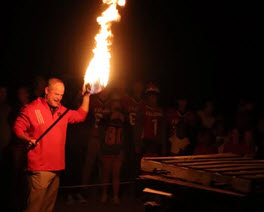 Homecoming Week

At Fuqua School, Homecoming is more than a football game under the Friday Night Lights. Homecoming is a time for the school community to come together to celebrate being a Fuqua Falcon. Whether it's a theme day, our school-wide picnic, our annual bonfire, our school-wide community service day, the cheerleaders performance, the game, the band performing during half-time, the crowning of the King and Queen, or the Homecoming Dance, Fuqua School's Homecoming Week is a week of fun, spirit and bonding for students of all ages.

Veterans' Day Program
Fuqua School hosts an annual Veteran's Day program to thank, appreciate, honor and remember military veterans. The event is held at Crute Stage in Downtown Farmville, and the community is invited and encouraged to join the remembrance.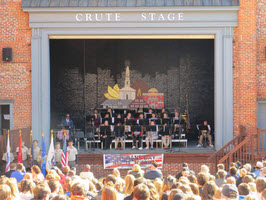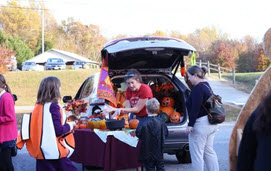 PTSA Pumpkin Lighting
The Lower School Pumpkin Lighting is an annual event hosted by the Fuqua School PTSA on the Lower and Middle School campus. Each classroom, in grades PK-8, decorate a class pumpkin and these are showcased during the Pumpkin Lighting. Games, face painting, and a costume parade all help make the Pumpkin Lighting a cherished memory for many families.

Lower School thanksgiving luncheon
Part of being a Falcon is knowing that we are one big family. So, like many other families across America, we come together in November to celebrate our Fuqua friends and family with our annual Lower School Thanksgiving Luncheon. A turkey meal with mashed potatoes, green beans and a roll is served and parents, grandparents and friends are invited to enjoy this delicious feast with their child.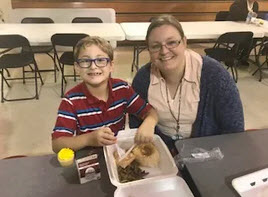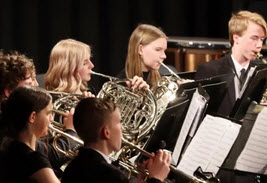 Opus

Every winter, the students at Fuqua School showcase their talents with the Lower School Holiday Program and the Middle and Upper School Opus. From singing performances to band, jazz and recorder performances, to skits and solo acts- Opus is a time for us all to come together to hear the sounds of the holiday season.

Prom

Fuqua School's juniors and seniors celebrate the end of another school year with the annual prom held in Fuqua School's Gee-Price Center. Hosted by the junior class, students work hard to give the seniors a night to remember.
Juniors and seniors also line up around the Fuqua Pool in preparation for the traditional Grand March. Following prom there is an after-prom party, hosted by the senior class parents.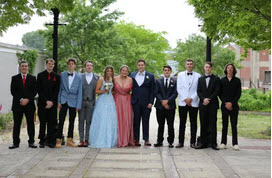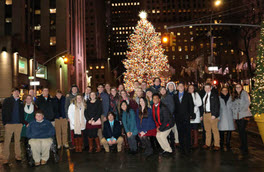 Senior Trip to NYC

Every year in December, the senior class takes on the Big Apple! From visiting historic sites such as the Statute of Liberty and the 911 Museum to Broadway shows and the Rockettes- our seniors enjoy exploring and learning about life in New York City.

Field Day

The Lower School celebrates the end of the school year with an annual field day. Games are set up across the football field and students in grades PK-5 enjoy sack races, egg tosses, sponge races and more. Following the morning session, students in grades 4 and 5 compete in class competitions such as the 100 yard dash, the shoe kick, and hula hooping. A tradition for many years, the Head of the Lower School uses a water hose to spray the 5th graders down following field day. This is a "rite of passage" as they prepare to become middle schoolers.