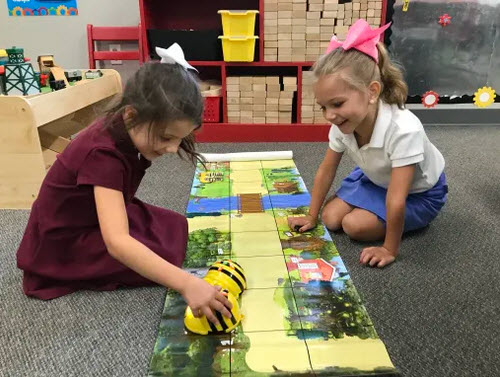 Fuqua's Lower School emphasizes academic excellence and unique learning opportunities in interactive, child-centered classrooms. The lower school serves students in Pre-Kindergarten (PK3 and PK4) through grade 6. Important to this environment is an emotional climate that is loving, nurturing and safe, as well as an educational climate that is stimulating, enriching, and challenging. Our goal is to strengthen each child's physical, social, emotional, and cognitive development to extend beyond their lower school years.
In the lower school, students gain necessary foundational skills in reading, writing, history, science, and mathematics. Through inquiry-based learning, students also discover that their questions and interests are valued, and integrated instruction across a broad range of subject areas encourages students to explore their creativity and expand their interests. In this nurturing environment, a well-rounded curriculum also includes weekly classes in the arts, technology, STEAM, Spanish, advisory and physical education which encourages every student to participate, discover personal interests, and develop talents.
Throughout the lower school experience, there are many opportunities for students to develop and enhance personal and social characteristics such as leadership, collaboration, independence, and curiosity. High expectations are matched by small classes (an average class size of 16 students with both a teacher and teacher assistant in PK-5th grades) and ample one-to-one attention from teachers focused on a student's "boundless individual potential".
Fuqua's Lower School also offers before and after school care. Our Falcon Care is open from 7:15 am-8:15 am and is located on the lower school campus. Falcon Care reopens from 3:00 pm-5:30 pm. Both are open Monday through Friday (exceptions: half days, school holidays, delayed openings, summer break, and emergency closings.) Fees do apply and pre-registration is required.
CURRICULUM

Fuqua's Lower School has a comprehensive curriculum that integrates the Virginia SOLs. Emphasis is placed on hands-on learning, real-life problem solving, and higher level thinking strategies.

Core Curriculum (taught by the classroom teacher):
PK-5th Grade Curriculum:
Language Arts
Math
Science*
Social Studies/History
Grade 6 Curriculum:
English & Literature
Math 6
Life Science 6*
U.S. History
*The lower school's science curriculum is enhanced by a STEAM Lab program.

Special Area Subjects (taught by a special resource teacher)
Art (PK-6) General Music (PK - 5)
Library (PK-6) Band (Grade 6)
Technology (PK-6) STEAM Lab (PK-6)
Physical Education* (PK-6) Spanish (PK-6)
Advisory (PK-6)

*All students have at least 30 minutes of physical activity daily (physical education class or supervised recess).